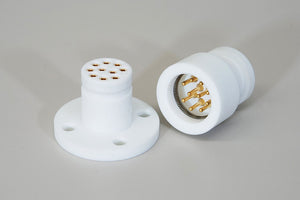 In-line Vacuum Connectors
Made with Low Outgassing Materials
Our in-line vacuum connectors are made using outgassing prevention materials, enabling sustainable use in vacuum environments. Their primary materials include oxygen-free copper (OFC), stainless steel, fluorine resin, and ceramics. Installing our in-line vacuum connectors simplifies the maintenance process of a vacuum device.
All of Globetech's in-line vacuum connectors are made to order. We adjust the shape, materials, and electrical specifications according to each customer's unique requirements.
Features
We can customize the shape, material, and electrical specifications of the connector according to your needs.
Since our connectors are made using low outgas materials, they can be installed and used in a vacuum environment.
Our connectors simplify the attaching and detaching of sensor and heater cables in vacuum chambers.
If you require, we can add functions to the connector we make for you, such as energizing for large current, heat resistance, and non-magnetism.
Applications
Heater power supplies and thermocouple signals for manufacturing flat panel displays.
ESC (electrostatic chuck) power supply for semiconductor manufacturing equipment.
Sensor signals for vacuum transfer robots.
Power supplies and control signals for vacuum stepping motors.
Custom solutions
Globetech's in-line vacuum connectors are tailor-made. We customize the number of poles, current and voltage values, lock mechanism types, and materials used according to our customer's specific needs.
During semiconductor manufacturing, electricity has to be passed through in a vacuum, which could be dangerous. A highly stable connector is required to ensure smooth production. Throughout the process, the sensor and heater often need to be replaced. Hence, the connector must be designed to allow for easy replacement of the defective part.
Globetech's in-line vacuum connectors are highly stable and simplify the replacement of parts, reducing the time required to stop the semiconductor production line.
Case Study 1
Problem
A semiconductor manufacturing line often requires installing the heater and connectors by screwing manually, which increases the maintenance time and workload.
Solution
Globetech's in-line vacuum connectors streamline heater replacement as they do not require manual screwing.
Case Study 2
Problem
When the temperature sensor fails, an engineer must be present to repair the defective parts, which lengthens the downtime of the production line.
Solution
Globetech's in-line vacuum connectors simplify the replacement of faulty parts. It is easy for workers just to attach or detach them. This reduces production downtime.
Case Study 3
Problem
When atmospheric pressure connectors are used in a vacuum environment, outgassing might interrupt production.
Solution
Globetech in-line vacuum connectors use materials that prevent outgassing, thereby eliminating the contamination of manufacturing equipment. This smoothes the semiconductor manufacturing process.
Contact Parts
These current-carrying socket contacts and pin contacts are made using standard stock items. We recommend #16, #12, or #8 contacts for standard signal or current connections. For thermocouple signals, we have a lineup of Type K, Type E, and Type T contacts.
If you require connectors with higher current carrying or heat resistance capabilities, we can custom make them for you.