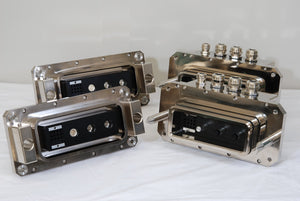 Custom High-Current Connectors
Made-to-Order Solutions
If the standard connectors available on the commercial market do not meet your specifications, you might want to consider our solution.
Globetech is a leader in high-current connectors used for power supplies. We can custom-design connectors to match your unique requirements, including electrical specifications, shape, material, application, and operating environment.
All of our high-current connectors use electrical contacts to ensure a stable current flow, especially for special applications with unique specifications.
Features
Custom designed connectors based on your specifications, including capacity, shape, materials, applications, and environments.
Stable energization enabled with multi-point contact bands.
Available in a range of current capacity from 10A–10,000 A.
We have decades of experience in designing and manufacturing high-current connectors
We create compact designs with durable materials to withstand high currents and provide stable energization.
Application
Semiconductor CVDs, PVD equipment.
Heaters for semiconductor manufacturing equipment.
Electric inspection of automotive inverters, ECUs, motors, and batteries.
Connection systems for cables, transformers, and GIS.
Electromagnetic stirrers.
Custom solutions
Case Study: Custom High-Current Connector
Globetech's high-current connector can eliminate the following problems faced in the development of battery exchange type electric buses.
Case Study 1
Problem
Many connector manufacturers do not offer connectors with integrated power supplies and signal lines.
Solution
Globetech can custom-manufacture high-current connectors, allowing customers to have a perfectly compatible connector according to their requirements.
Case Study 2
Problem
Since electric buses operate outdoors, waterproofing is essential. Almost none of the connector manufacturers offer waterproof models.
Solution
Globetech creates high-current connectors that incorporate O-rings for waterproofing.
Case Study 3
Problem
Electric buses require changing of batteries several times a day, wearing out their connectors. Replacing connectors was time-consuming and expensive for the electric bus company. It added a layer of costs, personnel, and logistics to their operations.
Solution
Globetech designed a durable connector that halved the battery replacement frequency. This led to a substantial reduction in operating costs, including those for parts, facilities, and personnel.
Case Study 4
Problem
A reliable connector is needed to ensure no interference in the operation when energizing the electric bus.
Solution
Globetech has its specific safety inspection standards. Safety tests such as vibration and shock proofing are conducted before delivering connectors. As a result, the customer was able to confirm the reliability of the connector before implementing it.
Examples
High-Current Connector (Without Insulation)
Connectors for Electromagnetic Stirrers
Current Capacity: 1,000 A
Nominal Diameter: 

φ 

1.18" (30 mm)
The socket is silver brazed to the angle bronze busbar.
Socket for Power Distribution Equipment
Current Capacity: 1,000 A
Nominal Diameter: φ 1.18" (30 mm)
It can be locked with the set screw of the connector. Compresses the cable and connector.
High Current Socket
Current Capacity: 2,000 A
Nominal Diameter: φ 1.97" (50 mm)
The rear part of the connector is shaped to fit busbars and crimp terminals.
High-Current Connector (With Insulation)
8P Drawout Connector
Current Capacity: 400 A (per pole)
Nominal Diameter: φ 0.55" (14 mm)
Eight poles are grouped with an insulator for automatic attachment and detachment.
EV Bus Battery Automatic Connection Connector
Current Capacity: 300 A (per pole)
Nominal Diameter: φ 0.629921" (16 mm)
Connects power supplies (3 poles) and signals (13 poles) that automatically connects batteries and EV buses.
3P Coaxial Connector
Current Capacity: 120 A (per pole)
Nominal Diameter: φ 0.31" (8 mm)
The connector also has a coaxial structure using two types of electrical contacts in line with the shielded cable.