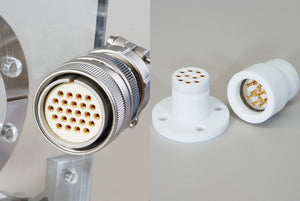 Vacuum Connectors
Feeding into Airtight Containers & Relaying Inside
Production and experiments in vacuum, pressure, liquid, and gas environments require airtight containers. Connectors suitable for vacuum environments must introduce heater power and extract internal thermocouple signals without compromising airtightness.
Globetech's Vacuum Connectors can be customized to accommodate high current in heater power supplies and temperature measurements with thermocouples. They also have mechanisms to ease maintenance and increase customer productivity.
Hermetic Connector
Hermetic connectors, also known as feedthrough connectors, are used when inserting multi-core electrical wires into vacuum or pressure-sensitive containers.
Based on your requirements, we can customize hermetic connectors with a wide range of specifications, including thermocouple signals and large currents for heater power supplies.
Details
Vacuum In-line Connectors
Our vacuum in-line connectors are made using outgassing prevention materials, enabling sustainable use in vacuum environments. Installing them simplifies the maintenance process of a vacuum device.
Details
Hermetic Connector
Hermetic connectors are semi-standard products made by welding a standard flange to a pre-prepared pin pattern. Custom pin patterns and flanges can also be provided on request by the customer. In combination with our custom vacuum in-line connectors, we can offer a wide range of specifications to meet customer needs.
---
Our Hermetic Connectors
---
Vacuum In-line Connector
During semiconductor manufacturing, electricity has to be passed through in a vacuum, which could be dangerous. A highly stable connector is required to ensure smooth production. Throughout the process, the sensor and heater often need to be replaced. Hence, the connector must be designed to allow for easy replacement of the defective part.
Globetech's vacuum in-line connectors are highly stable and simplify the replacement of parts, reducing the time required to stop the semiconductor production line.
Applications
Vacuum
Chemical & Plants
Accelerators
Power (switches, transformers, power converters)
Semiconductor Manufacturing
Experimental & Research
Medical, etc.
FPD Manufacturing
Nuclear & Radiation
Laser Generator
Aircraft & Space
Superconductivity Applications