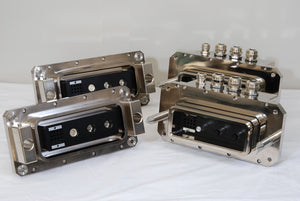 High-Current Connectors
Standardized & Custom Options
Globetech's strength is providing connectors for high-current power supplies. We offer standardized and custom options.
Standardized

High Current Connectors

Globetech's standardized connectors are reasonably priced and can be shipped quickly. Our popular Thread Contact Series is highly reliable and versatile.

Details
Custom Made

High-Current Connectors

Globetech can custom-design and manufacture the optimal connector for your required specifications, including shape, material, application, and environment.

Details
Incorporating Electrical Contacts in High-Current Connectors
Globetech's high current connectors use electrical contacts to reduce the resistance between conductors and ensure contact force to establish stable energization.
Electrical contacts provide superior contact stability by attaching a spring component between the socket and the pin contact. They are an essential part that determines the performance of the connector.
We can propose highly functional connectors according to your application, including:
Low contact resistance connectors.
Long-life connectors.
Connectors with large clearance between plug and socket diameter.
Connectors with light insertion/removal force.
Heat resistant connectors that can be used in high-temperature environments.
Features
Manufacturing high-current connectors that are not available in the market.
Compact connectors that can withstand large currents.
Flexible support for various shapes and specifications, whether single-pole or multi-pole.
Can be manufactured in small batches.
Applications
Electrical
Circuit breakers, VCB, switches, disconnectors, transformers, rectifiers, transformers, GIS, uninterruptible construction equipment, underground power distribution equipment, solar power generation, wind power generation, large-capacity power storage device, mobile power supply vehicle, UPS.
Machinery
Laser processing machines, electrical discharge machines, semiconductor manufacturing equipment, welding machines, induction hardening equipment, magnetizing machines, tool changers, plating equipment, heaters.
Medical
CT scanners, MRI, PET, heavy particle radiotherapy devices.
Experimental Equipment & Labs
Contact force, accelerators, superconductivity, cyclotrons, synchrotrons, electric furnaces, electron microscopes.
Inspection & Measurement
Burn-in devices, aging devices, capacitor inspection devices, smart meter inspection devices, IGBT inspection devices, non-destructive inspection devices.
Industrial Plants
Steelmaking equipment, lifting magnet cranes, electromagnetic stirring devices, LPG plants.
Automotive
Underfloor equipment connectors, linear motor cars, electric vehicle connectors, fuel cell vehicles, AGV, EV buses.