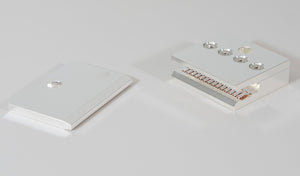 Fork Sockets
Busbar/Flat Terminal Connectors
Fork sockets are for connecting with flat busbars. Fork sockets make it easier to connect bus bars than screwing them together, which takes longer to connect. This increases the number of times that energization tests can be performed. The fork socket also minimizes misalignment during energizing tests.
Globetech can custom design a fork socket according to the thickness of the busbar you wish to connect. We can handle all dimensions from ultra-thin laminated battery tab terminals to thick busbars, which can handle large currents of up to 5,000 A.
Features
Easier to connect than types that require manual screwing.
Defects that may occur during energization are minimized because core misalignments are largely absorbed.
We can provide custom fork sockets designed to fit the full range of connection terminal thicknesses.
Absorbs the expansion and contraction of the bus bar caused by heat from energization.
Applications
Connections between battery cells.
Bus duct connections.
Connection to flat terminals of PCU or ECU in automobile parts inspection processes.
Connecting rack and panel connector units with power supplies.
Knife switches.
Custom solutions
Fork Socket Case Studies
Globetech's fork sockets are custom-designed to fit our customers' busbars' size, material, and electrical specifications.
Case Study 1
Problem
Manually screwing is required to connect the busbars in an internal connection for power equipment, which is time-consuming and ineffective.
Solution
With help from Globetech's fork sockets, connections only require a simple insertion, which is time-saving and eliminates manual screwing.
Case Study 2
Problem
Typically, a long busbar is used to connect a power supply to an accelerator and fix it with screws. However, the heat-stress causes the screwed part to expand and contract, which leads to poor contact.
Solution
Globetech's fork socket enables stable connections by eliminating the expansion and contraction caused by heat stress.
Case Study 3
Problem
Manual screwing is necessary during a battery inspection, which is time-consuming and limits the number of daily inspected batteries.
Solution
Globetech's fork socket allows a one-touch connection to the battery, doubling the number of daily inspections.
Examples
Below are examples of customizations we have performed for customers. Please feel free to contact us with your specific requirements.
Fork Socket for ECU Inspection
Busbar: Thickness .079" (2 mm), width .252" (6.4 mm)
Current Value: 25 A
A fork socket designed for ECU shipping inspections. While maintaining compatibility with the in-vehicle connector, the electrical contact is highly reliable and durable.
Fork Socket
Busbar: Thickness .197" (5 mm) / width 1.969" (50 mm)
Current Value: 60 A
The connection part has a large taper, which minimizes misalignments. Suitable for applications such as AGV.
Fork Socket with Plate Thickness Adjustment
Tightening the handle will lower the plate and push the busbar against the electrical contacts. Fewer scratches will occur during the action of insertion when compared to sliding fork sockets.