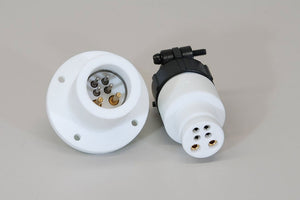 Thermocouple Connectors
Types K, T, E
A thermocouple is a method of accurately measuring temperature by measuring the electromotive force generated at the junction of a circuit made of two different metals. Thermocouples are the most widely used temperature sensors.
The use of standard commercially available electrical signal connectors on thermocouples can lead to false readings. Globetech can manufacture thermocouple connectors made of Chromel, Armel, copper, and Constantin.
The types of thermocouple types that GlobeTech can produce are ANSI standard types K, T, and E. By combining these standards with custom-made insulators and cases, we can manufacture thermocouple connectors to meet the needs of our customers.
Globetech can also manufacture custom connectors to meet specific applications such as cable relays and hermetically sealed (airtight) containers.
Features
The contacts are made of thermocouple material to prevent measurement errors.
Our custom-designs enable connecting and disconnecting multiple thermocouples at one time, streamlining maintenance.
Cable relay type thermocouples further facilitate ease of maintenance.
Thermocouples can be built into hermetic connectors to measure signals in a vacuum without compromising airtightness.
Applications
Temperature measurement of the following equipment:
Wafers in semiconductor manufacturing
Glass substrates for FPD manufacturing
Heat treatment for aircraft parts
Also, useful for measuring temperature rises as electrical components are used.
Custom solutions
We custom make cable-relay-type thermocouple connectors to meet our customers' specific requirements. Our thermocouple connectors are semi-custom made with a combination of a pin pattern and a flange in a hermetic connector.
Case Studies: Thermocouple Connector Solutions
Case Study 1
Problem
Standard commercially available thermocouple sensors were connected manually with screws, which made replacement a time-consuming process.
Solution
Globetech's thermocouple connectors made it possible to quickly and easily replace the thermocouple sensors without the use of tools, thereby improving operational efficiency.
Case Study 2
Problem
A standard commercially available electrical signal connectors were being used in place of thermocouple sensors. However, the temperature difference around the connector affected the thermocouples, causing measurement errors.
Solution
Switching to Globetech's custom thermocouple connectors eliminated measurement errors.
Case Study 3
Problem
To measure the temperature of wafers in semiconductor manufacturing equipment, many objects had to be measured at once. Commercially available thermocouple connectors were being used, but it was impossible to connect and disconnect multiple thermocouple wires, which was inefficient.
Solution
Globetech customizes the number of poles and shapes of the thermocouple in-line connectors to meet the customer's requirements so that a large number of thermocouple wires can be plugged and unplugged with a single touch.
Custom Thermocouple Connector Options (Manufacturing Examples)
Compatible Thermocouples
We always have a stock of thermocouple socket contacts and thermocouple pin contacts made of the above materials in stock, enabling us to propose thermocouple in-line connectors for our customers. Hermetic connectors use pins made of the above materials. Atmospheric and vacuum side plugs are equipped with built-in thermocouple socket contacts.
Type (ANSI)
+Pole
-Pole
Measurement Temperature Range
K
Chromel
Alumel
-200 ℃–1000 ℃
(-328 ℉–1,832 ℉)
T
Copper
Constantan
-200 ℃–300 ℃
(-328 ℉–572 ℉)
E
Chromel
Constantan
-200 ℃–700 ℃
(-328 ℉–1,292 ℉)
---
Examples
Thermocouple Relay Connector
6-Pin round connectors
2 Pairs = 4P Type K thermocouples
2P heater power supply 23 A
Thermocouple and heater power connector with insulator made of PTFE and latch-locked by coil spring.
6-pin round connectors
2 Pairs = 4P Type K thermocouples
2P heater power supply 23 A
Thermocouple and heater power connector with bayonet mount in an aluminum case with PCTFE insulation.
Thermocouple Hermetic Connector
Type T hermetic connectors
Type T 14 pairs = 28P hermetic connectors, vacuum side plug, and airside plug.
Type T compensating cable assemblies are available for the vacuum and air side plugs.
If you have issues assembling it yourself, we can do it for you for a fee.
---
Type K hermetic connectors
Two hermetic connectors, Type K 12 pairs = 24P, and 18 pairs = 36P are welded to a single flange.
The vacuum side plug and the atmospheric side plug have a cable assembly of Type K compensating cable.