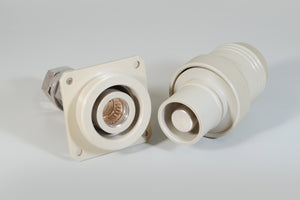 Heat-Resistant Connectors
Tolerant up to 680 ℃ (1,256 ℉)
Globetech combines the latest technology and high-quality materials to develop connectors that can withstand up to 680 °C (1,256 ℉).
A standard connector's heat resistance is about 60 (185) to 125 °C (257 ℉). Using a standard connector above its specified temperature limit may cause problems with continuity and insulation that results in melting or burning. Globetech's heat resistant connectors are made to solve such problems.
Our connectors have been widely used in semiconductor manufacturing equipment and other demanding scenarios. Heat resistant connectors are designed according to factors that cause the temperatures to increase, including the environment and factors present during energization.
We can make bespoke designs to meet your environmental criteria. Possible customizations include essential parts such as electrical contacts, conductors, insulators, and external casing. It is also possible to customize the connector for a vacuum environment or high current application.
We want to avoid overspending. Heat-resistant materials are costly. Thus, while it is crucial to choose materials that exceed your maximum expected operating temperatures, overly high specs might result in unnecessary costs. Therefore, please contact us with your requirements, and we will work with you to ensure that you don't overpay.
Features
Maximum temperature of 680 ℃ (1,256 ℉).
We can customize the connector's materials based on your use environment.
Features heat-resistant spring material such as Inconel or stainless steel for electrical contacts.
Fully customizable based on the number of poles, current value, and shape.
High current and vacuum environment functions can be added.
Applications
Heater power supply for semiconductor manufacturing equipment.
Ion beam filament power supplies.
Temperature sensor signals of heat treatment furnaces.
Steel mill heater power supplies.
Semiconductor burn-in equipment.
Custom Solutions
All high-temperature heat resistant connectors are custom-designed according to our customers' environmental temperature, electrical specifications, and usage requirements.
Case Studies
The following are examples of how our custom high-temperature heat resistant connectors solved our customers' problems.
Case Study 1
Problem
The manufacturer of metal heat treatment equipment developed a market-leading product. To improve the maintainability, they wanted to change the heater's attachment in the heat treatment equipment from manual screwing to a connector. However, no connectors that could withstand temperatures up to 300 °C (572 ℉) were available.
Solution
After installing Globetech's heat resistant connector, the manufacturing heat treatment equipment became smoother with high maintainability. The connector also incorporates a heat-resistant spring material that is easier to use other manufacturers' products.
Case Study 2
Problem
A steel mill worker had to screw their heater power to a terminal block manually. The long working time in a high-temperature environment was dangerous and exhausting.
Solution
Globetech's heat resistant connector allows them to swap out and replace heaters quickly and easily. The workers can focus on more critical tasks, and they aren't exposed to the hot environment for as long.
Case Study 3
Problem
When using a commercially available connector in the heater of semiconductor manufacturing equipment, the connector could not withstand the heat, resulting in poor contact.
Solution
Globetech developed a heat resistant connector with the same dimensions as a standard commercially available connector. As a result, contact failure was resolved without changing the parts around the semiconductor manufacturing apparatus.
Main Materials
Electrical Contacts
The electrical contacts used in the heat resistant connector must be of high quality. Select a material that can stably conduct electricity without losing the spring property even when exposed to high temperatures.
The electrical contacts used by Globetech for heat resistant connectors are:
Contact bands
Coil spring contacts
There are two types of products. Both of which have a lineup of products made with high technological strength using heat-resistant spring materials.
Materials that can be used for electrical contacts:
Beryllium copper alloy
Nickel alloy
stainless
Hastelloy
Inconel
---
Materials used for conductors:
Copper alloy
Stainless
Nickel
Inconel
Materials used for insulation:
PTFE
PEEK
Polyimide
Ceramic
Materials used for the case:
Aluminum
Stainless
Inconel
Production Sample
All Globetech heat resistant connectors are custom-designed according to the customer's application. Hence, there is no standard product lineup. Please consult with us regarding the design and your budget.
Heat Resistant Connectors (Without Insulation)
These are samples of the conductor part. The customer will need to insulate the product when installing it on their device.
Heat Resistant Connectors (With Insulator)
Heat resistant connector with customized insulation, case, and locking mechanism. Insulators and case materials are selected according to the operating environment temperature.