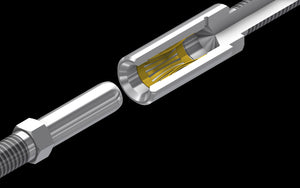 Contact Bands
Ensuring Durable Connectors
A contact band is an electrical contact that is used between a socket contact and a pin contact to carry electricity stably.
Globetech's contact band uses a beryllium-copper alloy. Using a contact band for the connector, we realize a mechanically and electrically highly reliable connector due to its excellent spring properties and power flow.
By changing the type of contact band, we can realize durable connectors with low contact resistance, ample clearance between the plug and socket diameter, and requiring less force to insert/remove.
Also, by changing the material, it is possible to design a corrosion-resistant contact that can be used in a high-temperature environment.
Typically, Globetech does not sell contact bands alone. We are proposing a contact band built into the connector. However, some customers require large quantities of contact bands. In any case, please contact us with your requirements and we can find a suitable solution.
Features
Louver structure suitable for energizing large currents.
Stable energization by multi-point contact.
Low contact resistance suppresses heat generation even with high current.
Superior capability to remove oxide film thanks to the wiping function of the heat cycle.
We can manufacture heat resistant and corrosion resistant contact bands by changing the material.
Not only socket mounting but also plug mounting is possible.
The contact band can be sold separately for high volume applications.
Contact Band Series
Swipe left/right to view all content in the table
| Series | Contact Shape | Wearing Width | Louver Pitch | Current Value/Louver |
| --- | --- | --- | --- | --- |
| GCB1a | | .70" (18 mm) | .10" (2.54 mm) | 25 A |
| GCB1b | | .70" /(18 mm) | .10" (2.54 mm) | 25 A |
| GCB3 | | .49" (12.5 mm) | .039" (1 mm) | 7 A |
| GCB4 | | .33" (8.5 mm) | .031" (0.8 mm) | 5 A |
| GCB5 | | .22" (5.5 mm) | .027" (0.7 mm) | 3 A |
| GCB8 | | .39" (10 mm) | .13" (3.3 mm) | 45 A |
| GCB12 | | .52" (13.1 mm) | .08" (2 mm) | 25 A |
Applications
Internal connection of circuit breakers, switches and disconnectors of electric power and substation equipment.
Connection between bus bars carrying high current.
Grounding of RF power supply for semiconductor manufacturing equipment.
Custom solutions
Custom Contact Band Case Studies
Real-life examples of how our custom contact bands solved major issues for our customers.
Case Study 1
Problem
Expensive contact bands pushed up the final product cost.
Solution
Switching to Globetech contact bands dramatically reduced costs.
Case Study 2
Problem
Procuring contact bands was taking three months or more.
Solution
Switching to Globetech contact bands removed this delay and allowed the manufacturer to stabilize its production schedule.
Case Study 3
Problem
When using finger contacts and spiral shields in the high-frequency (RF) grounding part of semiconductor manufacturing equipment, contact failure occurred, resulting in burning.
Solution
Switching to Globetech's high current contact bands eliminated the burning.
Case Study 4
Problem
The Finger Contacts and Spiral Shields had weak spring properties, so they deteriorated once used and need to be replaced each time.
Solution
Switching to Glovetech contact bands dramatically reduced the replacement frequency due to their excellent spring properties.
Examples
Connectors for Electromagnetic Stirrers
Current Value: 1,000 A
Nominal Diameter: φ30 mm
Contact Band: GCB1b
Feature: The socket is silver brazed to the angle bus bar.
Flat Contact
Current Value: 1,000 A
Contact Band: GCB8
Usage: Sandwiching between busbars.
Benefit: Stabilizes the current flow due to the amount of deflection of the electrical contacts for looseness of screws, warpage of planes, and gaps caused by heat cycles.
Other Examples of Contact Band Manufacturing